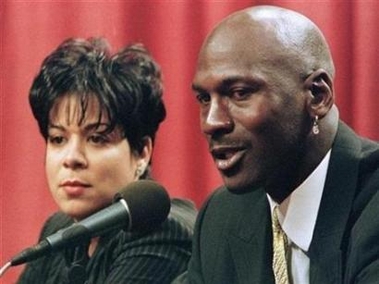 Yeah, I said it. Michael Jordan's former sidepiece wants his DNA to prove paternity ... again.


A woman who claims Michael Jordan fathered her child wants the former NBA star to submit to a third paternity test.

Lisa Miceli also is asking a judge to lift a temporary restraining order imposed after Jordan filed a harassment suit against her.

Miceli, 35, of Meadville, claims Jordan fathered her 4-year-old son, but Jordan's lawsuit says a pair of 2005 paternity tests rule him out as the boy's father.

Jordan's attorney Frederick J. Sperling participated in a hearing by phone Friday, denying Miceli's claims that the restraining order prevents her from negotiating a child-support agreement settlement with Jordan. [Source]

That last sentence bothers the shit out of me. I didn't know that you could prevent someone from getting a paternity test, but I understand it. If Jordan was proven to not be the father of Miceli's child twice, there's no reason to waste either person's, or the court's, time and retest both parties. What is she hoping? That three is the magic number?
3rd Paternity Test Asked of Jordan [
Atlanta Journal-Constitution via AP
]